For Dutch text click here/Nederlandse tekst hier klikken
Sanne Bruggink paints in opaque and transparent geometric layers. Depending on the period and/or the question, she sprays these layers with air brush and stencils, paints them with ink or paint, casts them with casting resin, sands parts for a contrast between matt and glossy or prints them digitally with more or less layers of ink. The background can be paper, but also, for example, canvas, perspex, wood, walls or windows.
By sliding, scaling or rotating these geometric layers, a suggestion of movement arises. This suggestion is strengthened by a play of light, for example with image and afterimage. Bruggink's work is therefore flat and spatial at the same time. This subtle play gives a shift from the geometric basis to a more organic appearance. This feeling of 'not being able to put your finger on it' gives it something mysterious. As if the answer is hidden under the layers of paint.
In her studio, Bruggink is currently making smaller works on paper with stencils and air brush (35 x 35 cm). She's also sketching with prints on transparent perspex and stacking them in several layers. In recent years she has regularly made (temporary) murals at the invitation of various art institutions. In addition, this year Bruggink executed the work "Move On [panta rhei]" on 69 windows (approx. 110 x 250 cm per window) commissioned by WTC Schiphol Airport with a print in 3 layers of ink on transparent foil.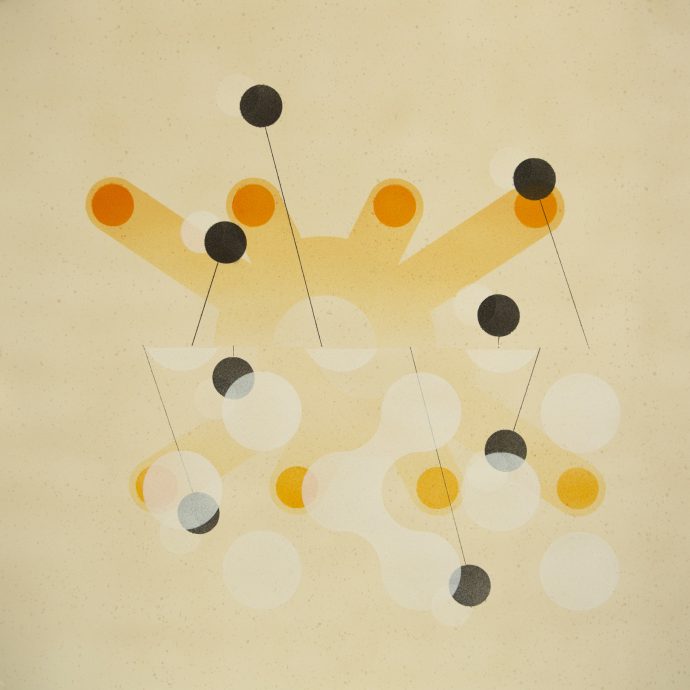 DRIFT III
airbrush on paper
35 x 35 cm
2022