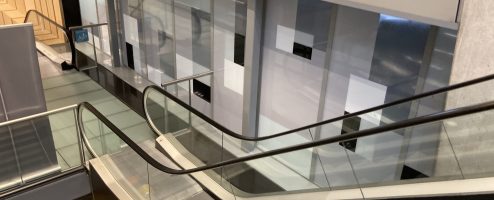 Art project: "MOVE ON [panta rhei]"
2021
Print on windows in 3 layers of ink.
Visual artist Sanne Bruggink (b. 1970, The Netherlands) created the work "MOVE ON [panta rhei]" for 69 windows commissioned by WTC Schiphol Airport.
In her design, Bruggink chose rectangular planes in black, white and some shades of gray; together, they create a moving pattern on the windows. In this way, the chosen hues and composition form a strong contrast to the 85 colorful, glass balls of Dale Chihuly's work "The Niijima Floats" (1996) on view in the same space. Yet the works also complement each other. The undulating surfaces and the balls that seem to float on the water both give a free feeling of weightlessness.
Each encounter produces change and everything flows; no moment will ever be the same as the last.
The starting point Bruggink chose for her work is the daily flow of passers-by at Schiphol Airport, on their way to new locations, situations and encounters. Bruggink translated this continuous movement into a 2-dimensional composition which is made up of various rectangular planes. These surfaces rotate from window to window and simultaneously move from small to large in a wave motion up and down. Each window is a reaction to the previous window in an interplay of transparent and opaque layers. These layers seem to slide past each other; thus, space is suggested. Depending on reflection, transparency, light, reflection, angle of incidence, background, foreground and composition, the image changes.