Netherlands, Artes Foundation "Modest Masters 1" Bergen NH
Artes Foundation – Modest Masters 1
Opening Sunday 10th of May 16:00 H
13th May – 1st June 2015
An exhibition and at the same time the start of Artes Foundation, a foundation that supports contemporary visual artists in a new way. Initiator Paul Pusch will be opening the exhibition and will present Artes Foundation.
Een tentoonstelling en tevens de start van Artes Foundation, een stichting die zich op een nieuwe manier inzet voor hedendaagse beeldend kunstenaars.
Initiatiefnemer Paul Pusch opent de tentoonstelling en zal Artes Foundation presenteren.
Artists
Sanne Bruggink | Pieter Bijwaard | Richard Caldicott | Carina Ellemers | Luuk de Haan | Christiaan Kuitwaard | Gerda Teljeur
Het Hof, Eeuwigelaan 1, 1861 CL, Bergen NH, NL.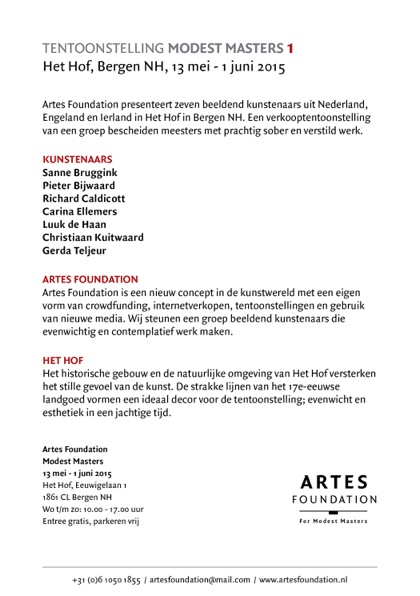 Trackback URL: https://www.sannebruggink.nl/netherlands-artes-foundation-modest-masters-1-het-hof-bergen-nh/trackback/